. . / recording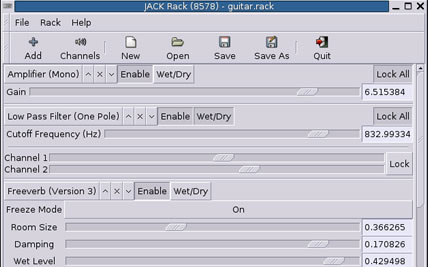 JACK QUICKSTART GUIDE
Have you ever wanted to take the audio output of one piece of software and send it to another? How about taking the output of that same program and send it to two others, then record the result in the first program? If so, JACK may be what you've been looking for.
JACK is a low-latency audio server, written for POSIX conformant operating systems such as GNU/Linux and Apple's OS X. It can connect a number of different applications to an audio device, as well as allowing them to share audio between themselves. Its clients can run in their own processes (ie. as normal applications), or can they can run within the JACK server (ie. as a "plugin").
JACK was designed from the ground up for professional audio work, and its design focuses on two key areas: synchronous execution of all clients, and low latency operation.
About JACK (Official website)
Getting started via UbuStu Feed
Article on 64studio

PUBLISHING YOUR MUSIC
Find out about what a PRO does and why it is important for you to publish your music. Without being registered with a PRO, you will not be able to collect royalties when your song is played on the radio, television, and more.
Click here for more
.

MAKE A LOOP IN ARDOUR
Ardour, the open source equivalent of Pro Tools, can be used to make beat loops.
Click here for more
.

COP FREE SOFTWARE
The universe of open source software offers an amazing variety of free programs geared toward making hits.
Click here for more
.