. . / about
IT AIN'T WHERE YA FROM...
Although blogs are dead, I feel strongly that hip-hop is not. As an ever evolving art form, hip-hop's influence has ranged musically from dance to pop to rock, even bhangra and Bollywood! Ultimately, hip-hop transcends genres. Socially, hip-hop's power has been reflected through fashion, every medium of advertising imaginable, and even thoughts leading toward electing the leader of a nation. Now, more than ever, it is important to share the knowledge which we have attained as artists and as a people. This site was not set up as a two way conversation. Its purpose is to bring knowledge to the table from those who are already established in our field. Hip-hop has become one of the human race's most dynamic forms of communcation arts. If you would like to share your thoughts, do so in the expressions released via the music we enable you to create and distribute.
the1shanti
MISSION
We are dedicated to being the digital musician's trusted partner in providing a knowledge base inclusive of: Free tools for music production, music publishing information, digital distribution methods, and online marketing techniques.
VISION
Everyone will have the ability to achieve high quality results via access to the knowledge of how to create, publish, distribute, and market digital music using tools which are free of charge.
. . / contributors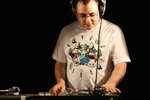 ElekTro4
(ET4) has been drumming since birth and DJing since he got KMD's "Peachfuzz". In 1990, ElekTro4 took his lifelong love for music a step further when he started producing. ET4's full-length debut "Keystroke One" on Bully Records had a warm reception from bedroom DJs to club DJs worldwide. His music can also be heard in various skate and snow videos as well as television shows like "The L Word" and "This American Life". He is currently in the studio working with bands, emcees and putting together the follow-up to "Keystroke One" titled "The Animal EP", a portion of which is being prepared using open source software. A resident of New York City, he also works in visual design and consulting when not roaming around the city in search of toys, food, and new technology to review for OpenSourceHipHop.
Official Website
|
On Myspace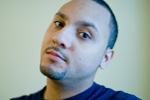 Miguel Sanchez
aka Mikegraphix began his career in the design/technology departments of Bad Boy Records and Loud Records. During the first tech boom, Sanchez aided in the design and launch of dot com urban cornerstone, the AKA Network (www.aka.com). Quickly recognized for his forward thinking aptitude in the urban digital space, Sanchez signed on as Lead Flash Designer/Developer with DME Interactive Holdings (Digital Mafia), the first publicly traded minority technology company on the NYSE. During his tenure, he created the first Flash-based user experiences for clients as varied as Cash Money Records to Star Wars (Lucas Film). The next decade would see Sanchez creating award winning online advertising as Art Director at Truenorth Inc., before he would break away to form Light Switch Advertising which he co-owns and currently operates. Sanchez signed on with OpenSourceHipHop to pass along the knowledge he has aquired on personal branding and marketing in the digital space as a way to push forward high quality music.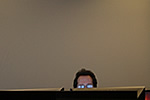 Rob Eberhardt
began his career in the music industry at Polygram, followed by a decade as Senior Director of Creative Technologies at Atlantic Records. A self-professed nerd, Eberhardt spent the 80s in Southern California where he helped found the San Diego Macintosh User Group. Upon relocating to New York, Eberhardt was recruited by Atlantic Records to devise a path forward to provide landmark artists such as Clutch, Jewel, Brandy, The Cure, Missy Elliott, Rush, Tori Amos, Collective Soul, The Corrs, En Vogue, Donna Lewis, Skid Row and many others the ability to adapt to new media and creative technologies in order to aid the furthering of their musical vision. Currently, Eberhardt is a software developer and user experience designer in Manhattan by day and a Brooklyn-based hip-hop caped crusader for artist empowerment by night. I DRINK YOUR MILKSHAKE!